Coming Soon Avoiding April Showers Giveaway Hop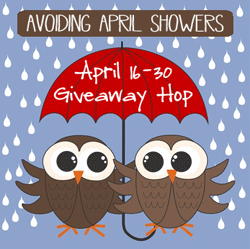 This exciting event will be hosted by Put a Little Umbrella in your Drink, My Mommy's World, Taking Time for Mommy and And the Little Ones Too.
The giveaway will feature various prizes with a value of $25 or more at each participating blog. There will be a featured list of participating bloggers so be sure to visit each blog for your chance to win!
This event will open April 16th and close April 30th at 11:59pm EST.
Be sure to visit my blog as I will be giving away
16oz. Jar of Arbonne's Aromaessentials Awaken Sea Salt Scrub ($28 Value)
The exfoliating action of this sea salt scrub-enhanced with the Awaken Essential Oil Blend. This wonderful scrub sloughs away dead surface cells revealing brighter, healthier looking skin.
Awaken Essential Oil Blend
Avocado and sweet almond oils
You'll also receive a complimentary sample pack of Arbonne's most popular skin care system for Anti-Aging. Choose either Women or Men.
RE9 Advanced synergizes not one but 9 major age-defying elements and botanicals in a powerful system of products clinically proven to start working within 24 hours.
RE9 Advanced for Women
RE9 Advanced for Men
Total Value of Prize Package $28
Don't forget to mark your calendars for this exciting event.