Pin It
Coming Soon Sunsational Summer Giveaway Hop June 7-20, 1012!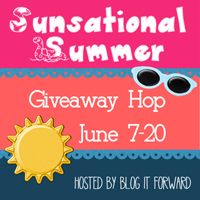 This exciting event will be hosted by Put a Little Umbrella in your Drink, My Mommy's World, Taking Time for Mommy and And the Little Ones Too.
The giveaway will feature various prizes with a value of $25 or more at each participating blog. There will be a featured list of participating bloggers so be sure to visit each blog for your chance to win!
This event will open June 7th and close June 20th at 11:59pm EST.
More details to follow soon.